---
Welcome to The Olive Tree
Upcoming events here at The Olive Tree
There is a lot going on, come on down to be a part of it
---
Pub Quiz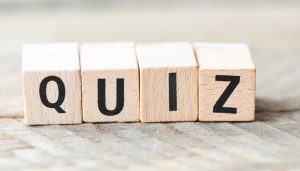 CANCELLED
! It is with huge regret that we are forced to cancel the 2nd monthly quiz planned for
Monday 29th November
. Christmas booking are unprecedented this year and with the shortage of staff we simply do not have the ability to run the night.
We will start again in the New year with it being regularly the 4th Monday of the Month. The first being Monday 24th January. I am sorry I know you will be dissapointed
---
The Olive Tree Lunch Club
Launching Tuesday 19th October come and enjoy either courses for only £17.50 or 3 courses for £21.50 on the majority of our menu. Some items do have a small supplement. See your menu for the details.
Available Tuesday to Friday lunch time.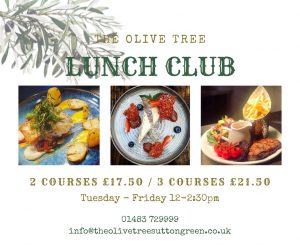 ---
Poker at the Olive Tree
3 weeks in and popularity is growing. Cards in the air 7pm each week £5 buy-in.
If you are interested but not sure, come down early and have a intro lesson. One regular did just that, played in the tournament and is now hooked.
You can just turn up on the night, but it would be helpful to know you are coming, so email nigel@theolivetreesuttongreen.co.uk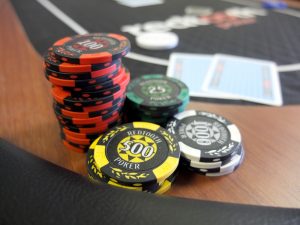 ---
Olive Tree Golf Society
The Golfing Society is now suspended until the new year. See the Golf Society page for further details.

---
Christmas and New Year opening hours
I think you all agree it's the staff that make your pub what it is. I also think you will agree they have had as bad a time as anyone over the past 18 months and I have asked the earth of them. Long hours when busy, short hours when quiet, usually with very little notice. Both front and back of house struggling with shortage of staff. Therefore with this in mind we will be closed a little more over the festive season than is usual. Not only will this give my team some well deserved down time at this special time of year. But I suspect after the disappointment of 2020 we will all be spending more time at home with the loved ones we couldn't be with last year.

Further changes to opening hours
Mondays
Although the pub continues to be closed on a Monday for food we are open from 3:30 to 7:30pm for drinks at Happy Hour prices.
£1.00 off pint of draught beers
20% of wine by the glass and bottle
£1.00 off a double sprit
Join a growing community of people putting an end to the Monday Blues with a Happy Monday drink.
Tuesday to Thursday
The pub will shut at 10pm,  last table bookings being 8.30 and the kitchen closing at 9pm
These changes are designed to take some strain off our overly stretched staff until we can resolve our shortages. Thank you for your continued understanding and support.
---
Booking your visit
Booking for indoors is just the same as outdoors, when you get to "Select a table type",  click 'Standard' for a table indoors and 'Outdoor' for a table in the Marquee. If you wish to reserve a table on the patio you will still need to call the pub. Otherwise they are available on a walk-in basis.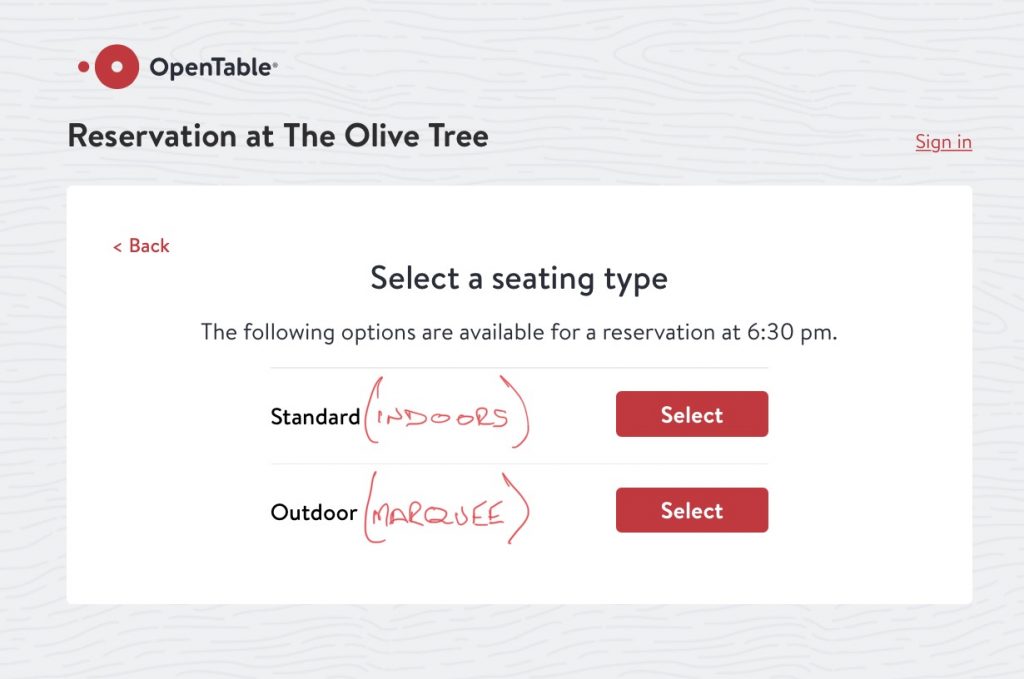 To book a table on the patio please call the pub, but be aware that if it rains we cannot guarantee you a table under cover if they are already all booked.
---
Vouchers for The Olive Tree
Looking for a gift for someone? an Olive Tree voucher is a great option. (See note these vouchers can not be used for takeaway and delivery)
to Buy a voucher please click here
---
Lastly we wish you all well. Stay safe and look after each other. If you have any thoughts or comments about the pub please feel free to drop us an email any time. info@theolivetreesuttongreen.co.uk
Nigel and all the staff.
---
Our most recent Facebook posts…